One thing that might make my progress slower is that I have to use up the regular dairy creamer that I already have before I switch to heavy cream or coconut cream.
I know this will be about a week or two to finish it off at which point I will get coconut cream or almond milk.
I just can't bring myself to waste something that a cow suffered to give. So after my two bottles of standard flavored creamer are used up I am going to make the change.
I stepped on the scale this morning after a quick bathroom break and I was the same as when I weighed yesterday which is good actually because I usually gain back.
The big number 306.2 lbs.
My brain feels slightly foggy but it does every morning until after a nice cup of Java. I wonder if I should give up the coffee permanently. I am sure I am addicted to it. I can try doing tea every other day just to break the addiction a bit, but either way I am sure I am getting caffeine. And I am not sure I can do without it.
I found these
coffee creamers
at Prymal.
I feel that there must be something better than processed creamers. Something you can make yourself with basic ingredients.
I literally just want to just eat clean so my body can benefit from the good wholesome ingredients with a lack of pesticides, herbicides, hormones and antibiotics. I also don't want a bunch of fillers, preservatives, and weird ingredients.
That means using the most simple ingredients as I can get. My husband and I are planning to homestead so as soon as I get my own goats or cow, the creamer will be from my own stock. We are moving to our land in about 6 months. You can learn about that here at
www.brambleberrycreek.com
.
We want to grow our own gardens, raise our own livestock and produce most of our own food. In addition we will maintain a debt free lifestyle as much as possible. I also want to grow my own microgreens to eat.
In the meantime I will see if I can figure out how to get organic heavy cream. I am sure that is a hard one to find. Well I guess it's not that hard because I just found several brands for sell on primenow.com. That solves my problem until then, but what about making my coffee a bit yummier?
I will have to research that. I am wondering if you can add vanilla bean, or vanilla, handmade caramel, or anything in minuscule quantities. Or use an Almond Creamer that is flavored.
Well I have a lot of research to do because this is a lifestyle change, not just a diet. And I refuse to use artificial flavors. Using artificial products is just gross to me. And way bad for my body and brain and those of my family.
I really like Almond milk but I wonder if Oat Milk is also good, I have heard it tastes great.
Not only that but how can we produce a creamer that is better for the animals who are living on farms producing dairy. My only answer is almond or coconut milk. I do not like seeing animals treated poorly. And we are moving to a community that raises cattle so we will be very careful to raise our own animals with good ethics.
I am avoiding soy because I hear it messes with our hormones and I certainly can't add that to my already confused and badly taken care of body.
Wouldn't it be awesome if someone was making a delicious, organic, natural Keto creamer that had only basic ingredients?
My goal is to make that happen because at 53 years old my brain isn't as bright and clear without some Java in the morning. It gets me moving.
Not only do I feel complete exhaustion but I feel like I blew a brain cell out after graduating from Regent University. I am so tired and it's been about two months since I finished my Information Systems Technology degree there. That was one very difficult school. I almost feel like someone put a blender inside of my head and turned it on towards the end. I know I hit burnout at the end and that it's so bad it almost feels like I had a stroke.
So in my opinion, coffee and good nutrition are essential for me at the moment. I have to nurse my over worked brain back to life.
Here is an article I found on making your own Keto Creamer by MyMontanaKitchen.
https://mymontanakitchen.com/keto-coffee-creamer/
I hear some of these creamers may be Keto friendly.
Nutpods.
https://www.nutpods.com/
Omega Power Creamer
https://powercreamer.com/
Thrive Market has some options - omgosh they have hemp creamer too...what????
https://thrivemarket.com/c/coffee-creamer
Also they offer this recipe which looks pretty cool.
The recipe is under the video, going to definitely try it.
https://thrivemarket.com/blog/dairy-free-spiced-creamer
Here are a few more which I found at Thrive market.
Know Brainer MCT & Organic Grass Fed Butter Ketogenic Creamer
Califia Farms Almond Milk Creamers and other products
Natural Force Keto Coffee Creamer
Pure Indian Foods Coffee++ Paleo Butter Coffee Creamer
Nutiva MCT Creamer
Picnik Creamer with Grass Fed Butter & MCT Oil
Elmhurst Hemp Creamer - even has a couple barista version
So I guess a new trend in Coffee with Keto is to put Grassfed butter in your coffee. And you will either hate it or love it.
Tibetan Monks have been putting Yak butter in their tea for a centuries. In fact it is their national drink. I will have to try that trend and get back to you on that. It's a bit scary to think about but it might just be amazing.
This picture is from Hungry Forever...
Hungry Forever has a yummy butter tea recipe. So go to their site and get the recipe.
https://www.hungryforever.com/recipe/butter-tea-recipe/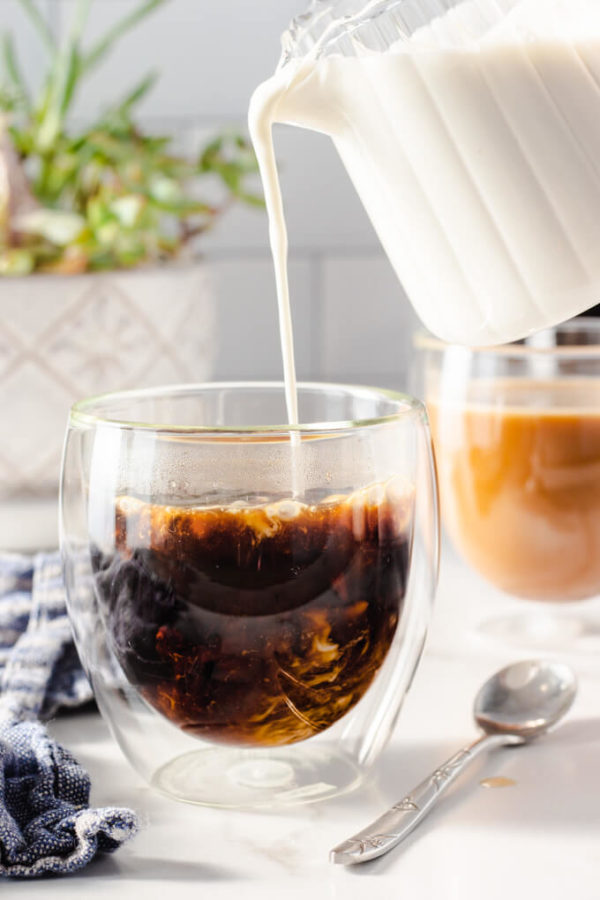 Image from Low Carb Maven...
Low Carb Maven also has a coffee creamer recipe for Keto
https://www.lowcarbmaven.com/easy-keto-coffee-creamer-recipe/
Low Carb Maven recommends this link to Tjs Taste as well
https://tjstaste.com/coffee-creamer/
Please subscribe and join me as I hold myself accountable on Keto. Feel free to add me on myfitnesspal.com, my user name is HauteSwan.